CFS COMMENCED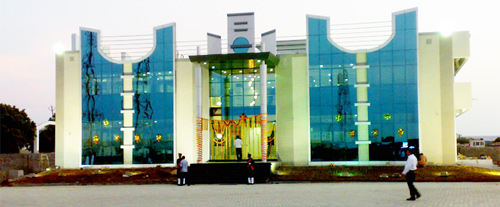 The CFS was commissioned on the auspicious day of 8th July, 2006.
CUSTOM NOTIFICATIONS
The following are the notifications issued by the Commissioner of Customs, Kandla.
(1) 01 / 2006. Dt.21.04.2006. under Sec-8 of the Customs Act.
(2) 45 / 2006 DT.09.06.2006.under section 45 of Customs Act.
(3) The CFS was approved by the Commissioner of Customs, Kandla as Customs cargo service Provider( CCSP) as per 'Handling of Cargo in Customs Area Regulations-2009'vide Lr.No.F.NO.S/20-34/CFS/2005-Appg(G) Dt.27.03.2010.
CFS SERVICES
FOLLOWING EQUIPMENTS ARE AVAILABLE AT C.F.S
The CFS is providing all export / Import services as per the guidelines given in 'Handling of cargo in Customs Area regulations-2009.(Regulations).The CFS is handling all types of export / import cargo like over dimentional cargo, liquid cargo in drums and flexi tanks, Bitumen through bitu containers, liquid cargo in tank containers, all types of general cargo, cotton bales, loose cargo like minerals coal etc. project cargo,heavy cargo like marble blocs.The CFS is having all latest modern equipments like top lifters, Hitachi loaders attached with crab, Hydra cranes with different capacities, Forklifts, loaders for hanling loose cargo and wooden logs, hazardous cargo etc.The Bonded warehouse, adjacent to the CFS, under the same administration is an added advantage to the Importers who prefer to keep the cargo under bond.The CFS is also ear marked separate space for the storage of empty containers of various Shipping Lines so as to enable the exporters to get them without delay.Also, the CFS has allowed the shipping lines rto undertake repairing of the damaged empty containers in the CFS itself.

Procurando por

locacaodeimpressora.com.br

em sp? ligue para a Sudeste Soluções e conheça a melhor prestação de serviço de outsourcing e nunca mais imprima páginas manchadas

The CFS is undertaking disposal of unclaimed /uncleared containers regularly in the CFSwith the approval of the Customs department. This serice has enabled the shipping lines to get back the empty containers in time for using the same in export cycle.

– Total Area of the CFS – 2,17,519 Sq.Mtrs.
– Covered Area – 23,360 Sq.Mtrs.
– Open area (Cemented) – 68,881 Sq,Mtrs.
– Weigh Bridges – 100 Mts. Electronic & 60 Mts. Electronic
– Equipments
– Reach stacker- 5 Nos.
– Heavy cranes – 2 Nos.
– Hydra cranes – 3 Nos.
– Fork Lifts – 6 Nos.
– Hitachi with crab – 1 No.
– Loader – 1 No.
– Trailors – 44 Nos.
CFS- At a glance
CONTAINER HANDLING DATA IN TEUS
YEAR
IMPORT
EXPORT
TOTAL
2006-07
6625
3593
10218
2007-08
35260
9628
44888
2008-09
17298
5626
22924(upto Octo '08)
SHIPPING LINES : 
MAERSK, CMA CGM, IAL, TRANS ASIA, DELMAS, BAY LINE, PERMA,EVERGREEN,FORBES, PATVELOK,CSAV,POSIDON,ABLE SHIPPING,ALBATROSS,BENLINE AGENCIESBHAVANI SHIPPING,CARAVAL,OPAL ASIA,GOODRICH,ZLINE,TRANSVISION,SEAWAYS SHIPPING,PORT TRADE SHIPPING
CONNECTIVITY TO PORT : 
The CFS is connected with Kandla & Mundra Ports through National Highways 8A and 8A Extention
CARGO HANDLED : 
EXPORT : Rice, Stone, slabs,cotton bales,tiles,machinery,sawn wood,machinery,mineralrs ,all bagged and jumbo bagged cargo, all type of hazardous cargo
IMPORT : Wodden logs,HMS,Non ferrous metals and scraps,HDPE and LDPE granules,chemeicals & liquids,stone blocks,project cargo,all type of hazardous cargo